Welcome!
I've retired from doing large art festivals, so this is my virtual booth, and launch zone to portfolios of available art. I also wrote a roller coaster of a memoir to explain what science cannot . . . full of colorful theories with little proof. It offers a fun and detailed guide for how-to (and how not to) make, show and sell creative work as a lifelong vocation. Thanks for stopping by.
Love, Mernie
Stories of a Colorful Life
A candid and often humorous memoir explains why this life didn't go quite as planned despite excellent advice—from both the angels and the dogs.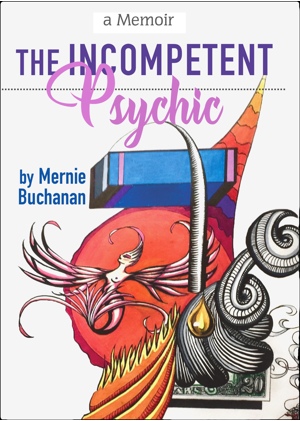 Order a signed copy direct from the author
ArtByMernie on Etsy
Quality paperback / 312 pages
$19 includes shipping in US

Or request a copy anywhere books are sold.
Colorful Companion Blog
All the art that inspired the stories
Over 170 paintings, drawings & sculpture take you chapter by chapter through 'The Incompetent Psychic' with quotes and anecdotes. Each illustrated post is a 2-3 minute read on a great writer's blog site.

OnLine Art Galleries
Affordable Acrylics Start at $55
In custom painted frames: Start at $120